Discover our offers and book
Hotel Ca' del Brocchi Venice
CURRENCY: U.S. dollar USD

Euro (EUR)

Pound sterling (GBP)

U.S. dollar (USD)

Canadian Dollar (CAD)

Swiss Franc (CHF)

Yen (JPY)

Australian Dollar (AUD)

Yuan (CNY)

Rouble (RUB)

Rupee (INR)

Czech Koruna (CZK)

Norwegian Krone (NOK)

Danish Krone (DKK)

UAE Dirham (AED)

Brazilian Real (BRL)

Hong Kong Dollar (HKD)

Jordanian Dinar (JOD)

Malaysian Ringgit (MYR)

New Zealand Dollar (NZD)

Omani Rial (OMR)

Kina (PGK)

Romanian New Leu (RON)

Saudi Riyal (SAR)

Swedish Krona (SEK)

Singapore Dollar (SGD)

Thai Baht (THB)

CFP Franc (XPF)

South African Rand (ZAR)

Moroccan Dirham (MAD)

Argentine Peso (ARS)

Taiwan Dollar (TWD)

Kuwaiti Dinar (KWD)

Bahraini Dinar (BHD)

Icelandic Krona (ISK)

Philippine Peso (PHP)

Bermudian Dollar (BMD)

Paraguaian Guarani (PYG)

Brunei Dollar (BND)

Polish Zloty (PLN)

Shekel (ILS)

Mexican Peso (MXN)

Fiji dollar (FJD)

Qatari Riyal (QAR)

Kazakhstan Tenge (KZT)

Belarusian Ruble (BYN)

Namibian Dollar (NAD)

Uzbekistani Som (UZS)

Dobra (STN)

Honduran Lempira (HNL)

Malagasy Ariary (MGA)

Convertible Mark (BAM)

Indonesian Rupiah (IDR)

Colombian Peso (COP)

Tunisian Dinar (TND)

Turkish Lira (TRY)

Vietnamese Dong (VND)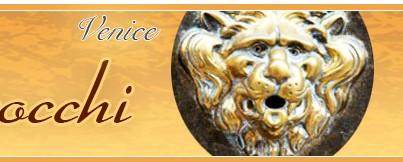 Home > Hotel
The Cà del Brocchi Guesthouse is a quick walk to the Guggenheim Museum and about 10 minutes from the world famous St. Mark's square. Surrounding the Guesthouse are gardens and wonderful buildings that date back the 16th century.

Upon arrival, our cordial and accommodating staff will aim to help guests in any way possible to create an enjoyable atmosphere so guests will have a memorable experience while in Venice.

The Guesthouse is splendidly decorated in Noble Venetian style that reminds us of the years when the Serenissima Republic existed and the homes of the Aristocrats used this type of décor.

Lovely paintings and gold inlay is found accenting the hotel in various places, and splashes of bold colour run through out.

The Guesthouse has recently undergone a restoration and has the advantage of a quiet neighbourhood location, very close to the centre. It provides seven elegantly furnished guest accommodations in the 18th century Venetian style décor. The Masinelli family is the original owners of the facility and aim to please the guests and offer all comforts and amenities of a big hotel, in a warm personal 18th century Venetian home.
Give us your Feedback
Ca' del Brocchi, Rio Terà San Vio, Dorsoduro, 470 - Venice